MR16 7w DIM led Spot Light
In an effort to greatest meet client's requires, all of our operations are strictly performed in line with our motto "High Excellent, Aggressive Selling price, Fast Service" for
Mr16 7W Dim Spot Light,Cob Mr16 7W Dim Spot Light,White Mr16 7W Dim Spot Light,Ce Mr16 7W Dim Spot Light
We've been sincerely on the lookout ahead to creating great cooperative relationships with clients from in the home and overseas for making a vibrant long run together.
China MR16 7w DIM led Spot Light Suppliers
MR16 7w DIM Led Spot Light (sometimes used as an interface, called MR16 or GU5.3) is a kind from a number of manufacturers to develop standard halogen reflector lamps. Today MR16 type LED lamp can also be seen.
MR16 7w DIM led Spot Light are often used in place of standard compact fluorescent or incandescent bulb applications, including residential lighting and retail lighting.
MR16 lamp was originally designed for slide projectors.

MR16 7w DIM led Spot Light are suitable for a variety of applications, require a low to moderate-intensity directional lighting, such as track lighting, recessed ceiling lights, table lamps, chandeliers, lamps, landscape lighting, retail display lighting and bicycle headlights.

Folding properties
MR16 7w DIM led Spot Light/MR16 spot light is a name number, where "MR" represent multiple reflector (Multifaceted Reflector). 16 is the length of the diameter of the representative of the former, the number of unit length of multiples, the provisions of 8 units of 1 inch. In MR16 example, the first diameter is 16 units long, 2 inches in diameter before that 2x2.54cm = 5.08cm, diameter of about 5 cm long.
Glass lamp cup, high long life, reliable, halogen bulb brightness, cheap.
MR16 7w DIM led Spot Light fatal flaw is: large power consumption, heat lamp great.
There cartridge Friends (flashlight enthusiast) because of cheap, high brightness, good floodlight, which was converted into a flashlight, good results.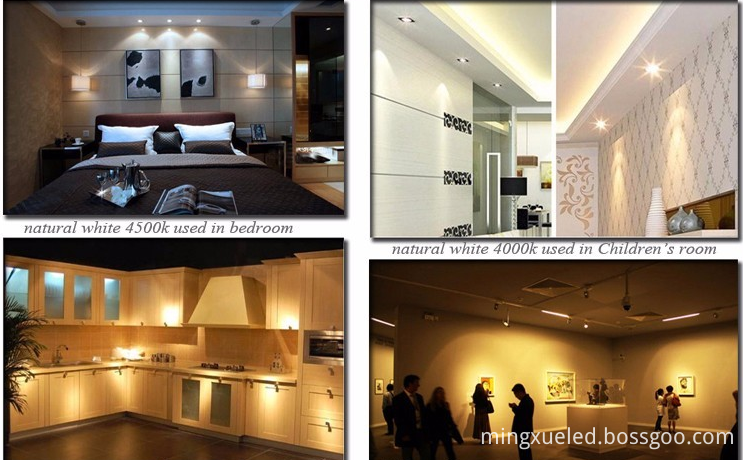 Currently such a well-known manufacturer of light cup of GE common NVC, Philips, Osram.
Mingxue Optoelectronics Co.,Ltd. has apply the I S O 9 0 0 1: 2 0 0 8 international quality management system certificate, For MR16 7w DIM led Spot Light we apply the CE, RoHS and SAA certificate for our led lighting product.